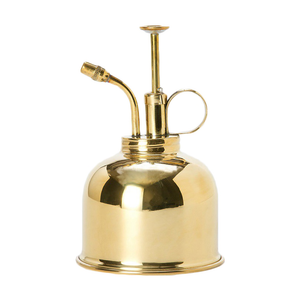 Vintage Brass Watering Bottle
Sale price Price 10.000 KWD Regular price Unit price / per
1、Fog spray nozzle, fine spray. It can spray light and dense water vapor, and the spraying area is large, which is attached to the water-demanding parts such as blades and roots.
2、Home decoration, high-value watering can. The chronological golden color scheme and vintage look are very appealing.
3、The mirror finish is polished with delicate texture. It features vintage brass, minimalist design and delicate texture. The yellow steel material makes it more retro for a long time. Over time, the surface of the brass will form a layer of rust, which has a more flavor.
4、Press the head for a high level of comfort. The concave pressing head is designed to fit the finger belly design, and the pressing is effortless.
5、Stabilize the base and place it securely. The enlarged base is firmly on the countertop.

Parameter:
Size: Height: about 14.5cm/5.71in, width: about 8.5cm/3.35in
Process: mirror polishing
Material: brass
Application: family small potted watering can, watering plant spray bottle, home furnishings

Care instructions:
1, Kerosene, tooth powder descaling: First takes kerosene with cloth to wipe the copper products, and then use tooth powder to wipe.
2, vinegar descaling: Copper rust on copper products, You can use vinegar, right amount of salt and cuttlefish bone to wipe the green copper rust on copper products.
3, lemon juice descaling: Remove lemon rust with lemon juice and salt. It will be good to wipe with tin foil, wood chips and salt.